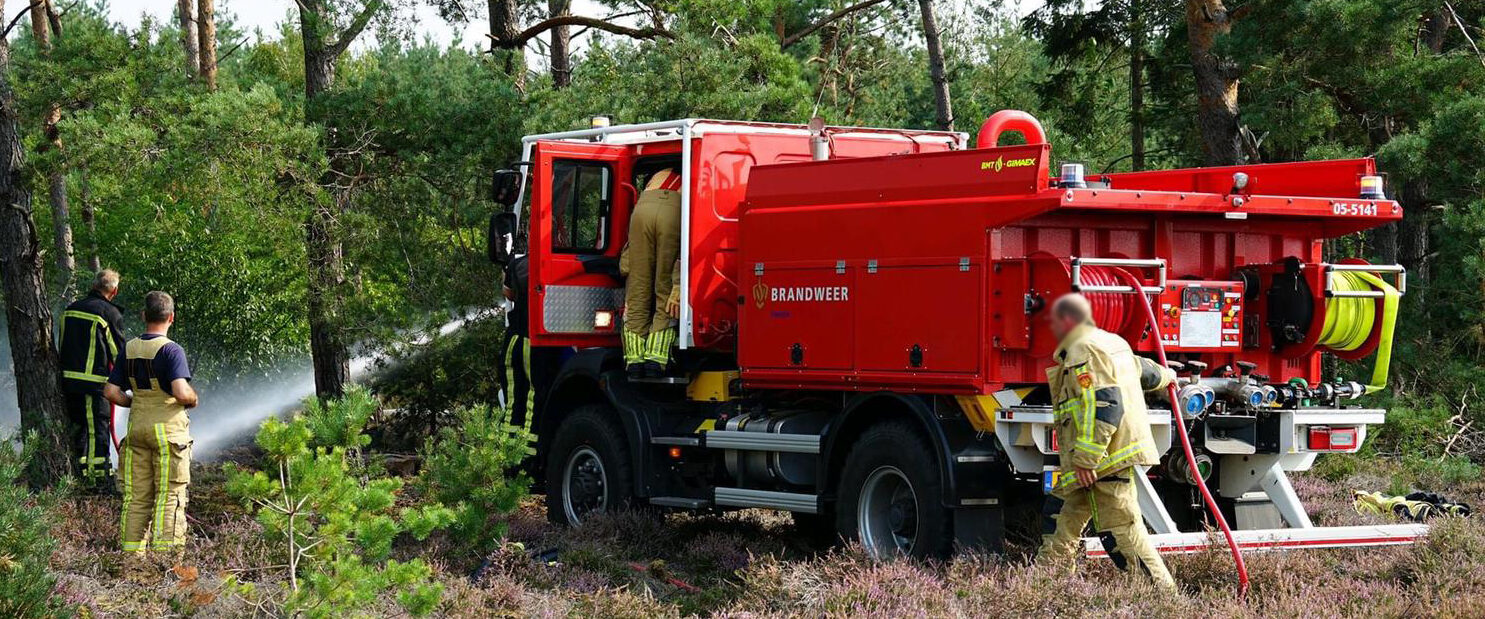 CCFM
Wildland fire fighting and WT4000
The GIMAEX CCFM wildland firefighting vehicle is basically equipped with a Renault D14 14 T. 4×4 (single air all around) manual gearbox CCR 280 HP Euro 6 chassis with a wheelbase of 3500 mm, which is factory equipped with an ergonomically designed and certified crew cabin for up to 4 people.
Other information or additional (chassis) options on request
Vehicle body
The CCFM is equipped with a self-supporting stainless steel superstructure which is connected to the chassis by a special 3-point suspension system, integrated (stainless steel) water tanks (3500 l. + 500 l.) and sufficient equipment space (lockable) on the left and right side of the superstructure. The factory-delivered Renault crew cab is equipped with a 2 + 2 layout, central breathing air system, certified roll cage and sufficient storage space for helmets, among other things. Also, the outside of the cabin is equipped with a branch protection and at the front with a bull bar.
Vehicle design and layout
The CCFM is basically equipped with a 3500 l. + 500 l. integrated water tank. (Foaming Agent tank optional) The equipment room is equipped with LED cabinet lighting, sufficient LED working lights all around, optical and acoustic signalling (class 1 & 2) and optionally available with a pneumatic operated light tower with LED lighting, tire deflation system, ergonomic ladder rack on the roof, 360 degree camera system, foldable rear bumper and a special hydraulically operated trolley (including 2″ or 3″ hoses) deposit system at the rear of the vehicle.
Extinguishing System
The CCFM is equipped with a PTO driven JOHSTADT low pressure fire pump made of bronze with a pumping capacity of approx. 2000 l./min at max. 10 bar (Pump & Roll) and an electrically driven pump for the self-protection system which can be operated from the cabin and pump panel at the rear of the vehicle and 2 electrically operated reels at the rear of the vehicle. It is also possible to outfit the CCFM with an optional foam proportioning system or a CAFS One Seven system, roof and bumper monitor. (adjustable from the cabin)
Know more about this product?
Mannus Bergboer
Productspecialist
+ 31 412-695550
Photo gallery
Video
Know more about this product?
Mannus Bergboer
Productspecialist
+ 31 412-695550